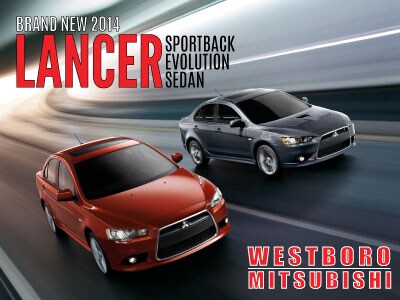 ...Not that you need one when you come to Westboro Mitsubishi, the premier Mitsubishi dealership of MetroWest! But, if you are on the fence about whether now is the time to buy a vehicle, we've got some great incentives to tell you about.
How does up to a $4500 rebate sound? Yes, superb - we know. That's one incentive on a 2012 Galant we're offering - or you may be eligible for 0% financing for 72 months.
And, if you're in the market for Mitsubishi Lancer, Lancer Evolution or Lancer Sportback, check these out:
2014 Lancer Sedan - $1500 Customer Rebate or 0% APR Financing for 60 Months
2012 - 2014 Lancer Evolution - there are a variety of incentives for these model years, for example up to a $1500 rebate or .9% APR financing for 60 months depending on the model year.
2014 Lancer Sportback - $1500 rebate or 0% financing for 60 months.
And, if you've got your eyes on a Mitsubishi Outlander or Outlander Sport, get a load of these phenomenal incentives:
2014 Outlander - $1500 rebate or 0% APR financing for 60 Months.
2014 Outlander Sport - $1500 rebate or 0% APR financing for 60 Months.
Then, there's the 2014 Mirage. Did you know that the 5-door hatchback Mirage was voted the #1 greenest non-hybrid vehicle by the American Council for an Energy Efficient Economy and featured on Greenercars.org's website? Right now there's a $1000 rebate on the 2014 Mirage.
And speaking of green cars, we've got 0% APR financing for 60 months on the 2012 i-Miev, which was one of the lowest priced electric vehicle (EV) when it came to market in 2012.
Plus, ALL vehicles are eligible for a $500 military customer rebate through June 2, 2014.
And, as though that wasn't enough, we're offering a $500 conquest customer rebate for 2013 & 2014 Outlander Sport vehicles and 2014 Outlander, Lancer & Lancer Sportback vehicles.
What are you waiting for? Get a jump on taking advantage of these amazing incentives by contacting our Internet manager, Brian Roberts at brian@westboromitsu.com today!