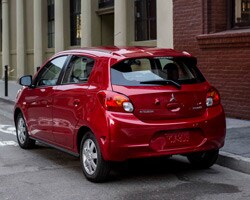 What is special auto financing? Well, it's a way for Westboro Mitsubishi to help our customers purchase a vehicle regardless of credit history.
Our Credit Center is committed to assisting customers obtain the best APR car loan possible on a vehicle they can afford. Plus, approximately 90 percent of the loans are financed with $0 down, too.
How are we able to come through for our customers when other dealerships may turn them away? It all starts with our dedicated team of professionals, who work diligently to look at the variety of automotive finance sources available. Then, we let you take a break from car shopping while we shop around for the best rate!
If you have credit issues and are in need of a new vehicle, stop by to discuss your financing options with the Westboro Mitsubishi Auto Credit Center. We are conveniently located on Route 9 East in Westboro and are the premier Mitsubishi dealer of Central Massachusetts.
We offer a tremendous selection of new Mitsubishi and more than 100 pre-owned vehicles and are confident we can help you find a vehicle that fits your budget and one for which you'll get approved!
Tied to your computer for the time being? No problem! Fill out our quick credit application online.