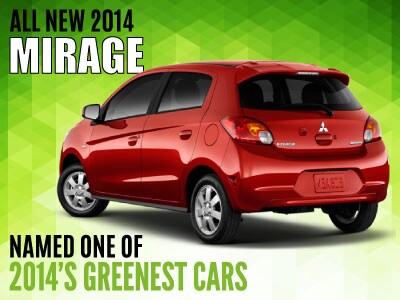 Are you looking for a new vehicle that's phenomenal on gas, stylish, affordable and chock full of the latest automotive gadgets every discerning auto aficionado craves? Westboro Mitsubishi would like to introduce you to the 2014 Mirage 5-door hatchback, which was recently ranked #1 in the category of greenest non-hybrid vehicle by the American Council for an Energy Efficient Economy. This little beauty has also been featured on Greenercars.org's website.
If you're in the market for a vehicle that lets you drive more for less, this is it! Recently, we outlined three great reasons to purchase a new Mitsubishi Mirage. To recap, here are three solid reasons to purchase a brand-new Mitsubishi Mirage.
combined EPA-rated combined city/highway fuel economy of 40 mpg;
super cargo space, safety features like like seven air bags (including a driver's side knee air bag) and active stability control (ASC) with traction control logic (TCL); and
many spectacular amenities standard, such as automatic climate control, power windows and remote keyless entry.
This latest news naming the Mitsubishi Mirage 5-door hatchback the #1 greenest non-bybrid vehicle underscores how to the list of reasons to buy one keeps growing and growing.
And, don't forget that like other brand-new Mitsubishi vehicles, the 2014 Mirage comes with a superior 10-year, 100,000-mile limited powertrain warranty. Right now, we've got new Mirages in stock for under $14,000!
Stop by Westboro Mitsubishi today to take one of these fuel- and eco-friendly vehicles for a test drive. We are conveniently located on Route 9 East in Westboro—and right off Route 495!