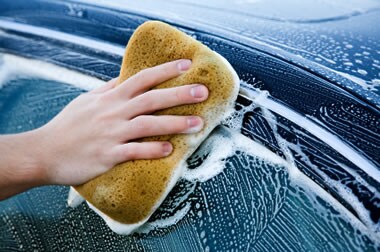 It's National Car Care Month-Check Out These Spring Car Care Tips!
April is national Car Care Month, which means it's the perfect time to give your vehicle a little TLC-and after this harsh winter, vehicles driven here in the Central Massachusetts/Metrowest area sure can use it! To get your vehicle ready for the spring and summer driving season, follow the Car Care Council's tips below to maximize your vehicle's performance and your peace of mind.
First up, suds up! That's right, give your car, truck or SUV a good cleaning. Why? Roadway salt can erode the paint and body of your vehicle-that's why! It's important to wash away potentially damaging agents like salt at the first sight of spring to keep reduce the risk of damage.
Next, adhere to the recommended factory scheduled maintenance for your particular vehicle. To optimize your vehicle's performance and its longevity, it's important to get regular oil changes and ensure that your transmission and other fluids are topped off and changed at the recommended intervals for your particular make and model. Westboro Mitsubishi's experienced service department is skilled in vehicle repairs and maintenance, and we provide quality repairs quickly at competitive pricing. We recommend that you check out our vast array of current service coupons-which can save you big-here!
Finally, don't let "little" things turn into big repair headaches. If your windshield wiper blades aren't doing the job anymore, or a check engine light has come on but you can't figure out why, don't delay, says the Car Care Council. Swing by Westboro Mitsubishi so we can diagnose and fix minor inconveniences before they turn into more costly issues.
Also, check out the Car Care Council's website, where you'll find many handy tools, including a new infographic. It depicts top problem areas for consumers concerning vehicle maintenance-for instance, engine, air filters and brakes. And, if you have any questions or concerns about general vehicle maintenance or particular questions about how to keep your Mitsubishi running in tip-top shape all year long, contact Westboro Mitsubishi today!