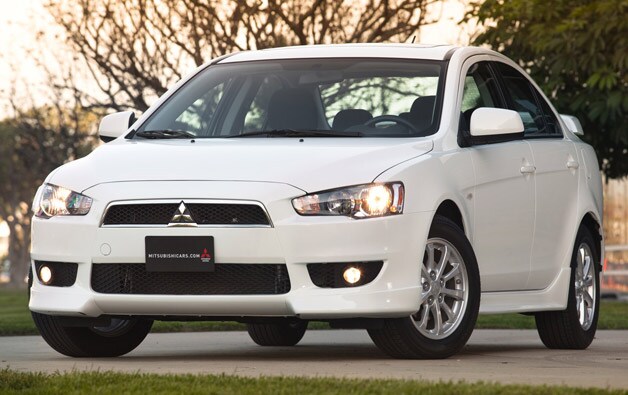 Back in the day the term "lancer" was used to describe a soldier who fought with a spear. Fast-forward to modern times, and the Lancer has become a symbol of excellent automotive design, function and performance!
The Mitsubishi Lancer, which has been going strong since 1973, is a highly rated vehicle that is a phenomenal choice for consumers seeking an affordable vehicle packing tremendous performance punch. And with three models to choose from the Lancer, Lancer Evolution and Lancer Sportback, you'll have no problem selecting the smooth, reliable and enjoyable ride that's right for you and your family!
Lancer - The Lancer, available in four trims (ES, GT, Ralliart and SE), has been recognized as one of the top 40 affordable small cars by U.S. News & World Report. It features a cylinder engine that delivers the power you need to get around and gets 34 mpg on the highway. Plus, the Lancer has all-wheel drive, one of those extras most compact cars don't come with, and seven air bags.
Lancer Evolution - If you're looking for a bit more sport, check out the Lancer Evolution, which comes equipped with a race-inspired transmission and 291 horsepower engine. The Lancer Evolution GSR also features a MIVEC engine, Super All-Wheel Control, Brembo® brakes, five-speed manual transmission and RECARO® seats, all at a surprisingly affordable price.
Lancer Sportback - And, if flirty and fun describe the ride you crave, check out the Lancer Sportback, which is super versatile and features ample cargo room to cart your family and your stuff around in comfortable style. Plus, the Lancer Sportback has consistently made the Insurance Institute for Highway Safety's top safety list!
So, what are you waiting for? Stop by Westboro Mitsubishi to take the Lancer out for a test drive. We've got some really great Lancer and Lancer Evolutions in stock right now that are just waiting to show you the powerful and sporty punch they deliver. We are the premier Mitsubishi dealer of Central Massachusetts and with a convenient location on Route 9 East in Westborough we are the home of the $0 down auto loan! We also offer cost-effective vehicle maintenance and service options, including oil changes, mileage-related service and major repairs.